Listen here to Dayna, our lovely and accomplished summer coordinator, in conversation with Marilyn Maki of CBC Radio Noon.
I had the opportunity to interview Dayna Kroeker, Summer Coordinator for Fruit Share a few weeks back. Here is a glimpse into her role and what she brings to Fruit Share.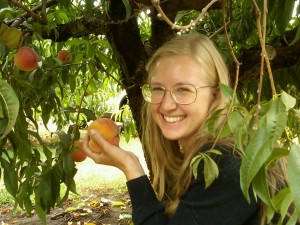 How did you hear about Fruit Share and what inspired you to get involved?
I heard about Fruit Share through a friend right when it was starting up in 2010. I picked rhubarb and apples that summer and loved being able to pick free fresh, local fruit that otherwise would have gone to waste!
Tell us about your role as Summer Coordinator.
Katie: Community Liason and Master Management System Organizer
This is my 3rd season with Fruit Share. I've been involved in many (okay, most) projects over the past few years, but this year I am focused on getting the automated harvest management system running smoothly for our hugely expanding program in Winnipeg. Of course, I am also helping to set up the same system for Steinbach and Brandon as they launch their local chapters. It is great to be working with Rebecca and Tanis and their volunteer teams.
As for my true passion and interest in Fruit Share - I am always taking on new endeavours in the kitchen and looking for new ways to use local ingredients. I am first a baker, an avid fruit and veggie canner and a dedicated fruit picker.